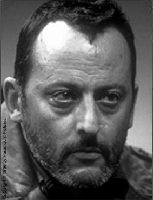 NEWS
.
BIOGRAPHY
.
FILMOGRAPHY
.
MULTIMEDIA
.
LINKS
.
SIGN MY GUESTBOOK
.
VIEW MY GUESTBOOK
Created March 30, 1999
A SHORT BIOGRAPHY*
Jean Reno (pronounced Ruh-No) was born Juan Moreno July 30, 1948 in Casablanca, Morocco to Spanish parents who moved to North Africa to escape the fascism of Franco. He moved to France after fulfilling his spell of military service in Germany, and settled in Paris at the age of 17. Here he began studying drama at a French government sponsored drama school.
He joined a travelling theatre company and performed all over France, making the jump to movie acting with Costa Gavras' Claire de Femme in 1979. He first gained critical acclaim in Luc Besson's Le Dernier Combat in the decidedly supporting role of a swordsman. , and went on to collaborate with Besson in several subsequent films. A second outing with the director, Subway, provided another brief part. But Besson and Reno formed a creative attachment and the director provided a breakout role, the second male lead, in The Big Blue. As Enzo Molinari, a macho champion free diver who fights off competition from an old friend and rival (Jean-Marc Barr), he received critical praise. But it was their next teaming, La Femme Nikita, that brought the bearded actor to American attention. Cast as the partner-in-crime to Annie Parillaud's title character, Reno portrayed a character that established the tone of his screen persona, the ability to be cool, calculating and amoral yet retaining the impression that a human being lived behind those brown eyes. He was particularly outstanding in Besson's other thriller, Leon, where he portrayed an immigrant mob hit man who finds his soul saving the life of a teenager (Natalie Portman) being pursued by a dirty DEA agent (Gary Oldman).
At the moment he's a hot actor, having starred in Jean-Marie Poire's box office smash comedy Les Visiteurs, as well as Brian DePalma's Mission: Impossible, Paul Weiland's romantic comedy For Roseanna, and in Lawrence Kasdan's French Kiss, with Meg Ryan and Kevin Kline.
For comprehensive film credits view Jean's Filmography.
*Please feel free to contact me with any inaccuracies or additional information appropriate to this page.
---
OTHER INFORMATION
MAILING ADDRESSES
Jean Réno
c/o CBC
11 Rue de la Croix-Boissée
91540 Mennecy, France
Jean Réno (his agent's address)
chez Les Films du Dauphin
25 rue Yves-Toudic
75010 Paris, France
---
The Jean Reno Webring
|Previous |Next |Random Site |Index |Join|
---
Comments, suggestions, or for advertising info please Email me
©1999 John Felton, Webmaster
---